High-Quality Products from Brennan Industries
There's one thing that Brennan Industries extremely proud about and it's that they really care about quality. They are careful about their services and the level of meticulousness they put in every product.
They have drawn the line between Brennan Industries and the other companies. Brennan started its parade of independence and quality in 1953. Despite what time has changed over the years, Brennan Industries has proven to be a solid organization.
Other hydraulic and pneumatic fitting sources aren't as strict as Brennan when it comes to quality control. As a matter of fact,they have been known to be one of the highest-quality companies in the industry.
Brennan Industries Fittings
Brennan Industries product offering has grown over the years to include all types of fittings and adaptors. Steel fittings and Stainless Hydraulic Fittings are two of the many things Brennan Industries has covered. In fact, there's more than 40,000 different styles and sizes to choose from. At IMS & DBH, just tell us what you need and we will get it for you.
Tube Fittings and Adapters
O-Ring Face Seal Fittings
Flange Fittings
Conversion Adapters
Brass Fittings
Clamps
and many more!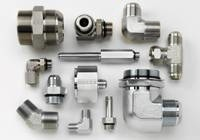 Premium Steel fittings and Stainless Hydraulic Fittings
Brennan Industries have passed through the highest quality standards. In fact, they have ensured that they have met the standards of .I.C./S.A.E. and International Specifications.
All of the fitting's designs are geared towards the idea of durability for long-lasting use. It doesn't matter how abusive your working environment is, this has been designed to take on the toughest of tasks.
IMS & DBH is a premier and leading company that has been in the industrial machine industry for more than 25 years.  We continually offers quality brands, products, and services worldwide.  We proudly offer world-class professional machining services along with steel and stainless hydraulic fittings.
As the premier industry for repairs and restoring your machinery, we can certify and guarantee you only the highest and quality standards of our products and services. Our personnel has continually adhered to professionalism in their specialized crafts and these acknowledgments gave us a considerable amount of certifications and recognitions.
Please call us! We would be happy to hear from you and we love to answer any questions you might have about our current products or services; industrial machine servicing; line boring equipment; Pneumatic Valves; Welding Products & Supplies;Steel and Stainless Hydraulic Fittings; Electric Motors and Controls; Paint Booths and Systems; Air Logic Controls; Hose Reels; Hydraulic Pumps; Pneumatic Compressors; Specialty Welding; CNC Parts, and many more services than we can list.
You can call us at this telephone number: 901-348-1155
You can reach our fax machine at this telephone number: 901-348-0373
Or if you would rather email us in order to request parts from DBH Distributors, Inc., please click here and fill out our quick form and we will be sure to get back to you as soon as we can. And for more generalized inquiries, you can always click here and fill out our simple form. We will answer your inquiry as soon as we are able to.
If you would like to visit, we are conveniently located at
3325 Millbranch Road
Memphis, TN, 38116
We are right near where Route 55 and Route 240 meet, less than ten miles south of Memphis.
Our business hours are Monday thru Friday 7:00 AM – 3:30 AM